How to Fix a Curtain Pole onto a Plasterboard Wall
Putting up a curtain pole on plasterboard wall can be a problem, so we are always glad to hear from customers who find that GeeFix fixings do the job!
Dave came across our website and after reading the independent reviews decided to try out our fixings to mount two curtain rails and two heavy mirrors on plasterboard walls. His verdict……. "They are brilliant – exactly as shown on the website; easy to fit and just feel so solid as soon as they are fitted to the wall unlike all the other plugs, expanding fittings etc I have tried over the years"
If like Dave, you have had problems with fixing curtain rods to plasterboard, try out GeeFix . You will not be disappointed!
www.geefix.com
GeeFix Hollow Wall Anchors
GeeFix anchors have a number of benefits that distinguish them from other anchor wall fixings fixings on the market:
A single GeeFix works for substrates between 3mm and 75mm thickness with suitable cavity wall fixing screws.

Works with a cavity gap of as little as 30mm.

GeeFix

are much easier to use compared to umbrella-style fixings.  You don't have to feed the final fixing through whatever item you're fixing beforehand.

Can be used with vapour barriers without perforating the barrier.

GeeFix

uses standard screws rather than bolts for its final fixing.
GeeFix was invented by a plumbing and heating engineer with over 40 years' experience in the trade. We are proud that not only was GeeFix designed and developed in the UK, but that it is also manufactured in Shropshire supporting local industry and British business.
It was developed with the aim of creating a fixing which would secure heavy items to plasterboard/drywall walls. The interiors of modern homes are constructed from studwork and plasterboard so that GeeFix is the ideal product for fixing those heavy objects to cavity walls. TVs, radiators, towel rails, shelving, cabinets, cupboards, mirrors, curtain rails ……… just some of the many items that can be securely fixed to plasterboard with our fixings.
These hollow wall fixings can also be used to refix an object to a plasterboard wall where a different type of fixing has failed. For example, where a radiator has come away from a wall, a GeeFix fixing can be installed in the same position as the failed fixing and so often reduce the amount of work necessary to repair plasterboard.
Can be adapted for use with smaller objects, such as bathroom accessories, where fixing holes are close together. In these instances, one fixing can be used to secure the item by using the length of the backplate in the cavity for additional fixing points.
Step 1
Drill a 1" hole centered on your desired location
Step 2
Assemble your GeeFix wall anchor system as shown above by threading the supplied blue pullcord through the round wall plug, the curved back plate, and back through the wall plug.
Step 3
While holding onto the pullcord, feed the curved back plate into the hole and center on the 1″ hole
Step 4
While keeping light tension on the pullcord slide the wall plug into the 1″ hole to align with the holes on the back plate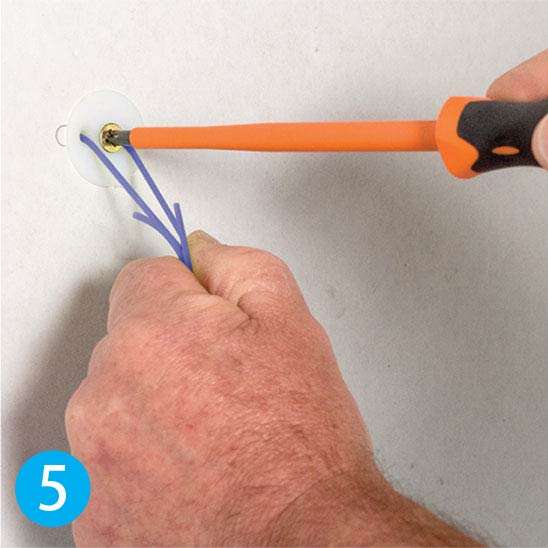 Step 5
While keeping firm tension on the pullcord, screw the large screw into the center hole until the GeeFix becomes firm, but do not overtighten. Keeping tension on the pullcord will keep the back plate in place during installation.
Step 6
Pull out the pullcord but do not discard. You can use the same pullcord on additional GeeFix installations.
Step 7
Insert the 2 smaller screws on either side of the large screw and tighten until the GeeFix is firmly secured but do not overtighten.
Step 8
Remove the center screw
Step 9
Now that your GeeFix system is installed, you can either use the center screw to fix your item, or use your own mounting hardware in its place.